State grant helps local affordable housing efforts
Work continues at Deer Creek Village apartment complex in Roseburg. Once completed, the NeighborWorks Umpqua project will provide 68 rental units for veterans and low income residents.
MICHAEL SULLIVAN/News-Review file photo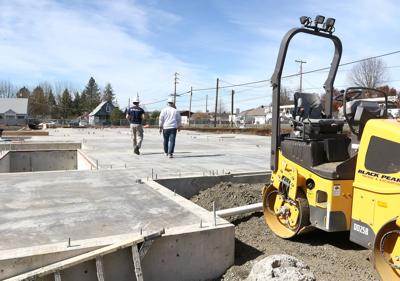 Efforts to increase the stock of affordable housing in the area got a boost this week with the news that a developer has been awarded a $9.8 million state grant to build a 144-unit apartment complex off Diamond Lake Boulevard, just east of downtown Roseburg.
The grant was among $75 million handed out this week in Local Innovation and Fast Track funding. The LIFT program was approved during the 2016 session of the Oregon Legislature to help spur affordable housing across the state for low-income families, including those in rural communities.
The Roseburg complex, which will be called Sunshine Apartments, is being developed by Wishcamper Development Partners, LLC, which has home offices in Portland and Missoula, Montana. Wishcamper has developed over 15,000 affordable apartments in two dozen states since the 1970s, according to its website.
The company also owns Rose Villa Apartments, located at 2525 NE Stephens St., in Roseburg.
City officials approved the Sunshine Apartments project in March. The 9-acre property is located at the northwest corner of the intersection of Sunshine Road and Diamond Lake Boulevard, across the street from Sunshine Park. Construction is set to begin early next year.
Plans call for six, 24-unit apartment buildings, each three stories tall; a community building; playgrounds; and open areas and landscaping. The apartments will consist of one-bedroom, one-bath units covering 672 square feet; two-bedroom, one-bath units covering 968 square feet; and three-bedroom, two-bath units covering 1,176 square feet.
The project will also feature a spacious community center, recreation area, community room, central kitchen, laundry facilities and fitness center, said Bret George, a principal partner at Wishcamper. Other amenities include a splash pad, indoor pet grooming and bike repair stations, and an outdoor pavilion and recreation area, he said.
"We are super excited to be bringing much-needed affordable housing to the Roseburg community," George said. "Wishcamper Development Partners and its principals have a deep commitment to affordable housing throughout Oregon and the Pacific Northwest."
The complex is the third being built in the newly formed Diamond Lake Urban Renewal District, a designation that provides incentives in the form of deferred and waived fees normally associated with such projects.
The other two apartment complexes are also in the works.
The Oak Springs Apartments, an 89-unit apartment complex on a 5-acre site at 331 NE Pomona St., off Diamond Lake Boulevard, is also being built in the district. Plans call for two-story, two-bedroom, two-bathroom units consisting of 968 square feet.
Also being built are the Deer Creek Village Apartments, a 67-unit apartment complex being developed by NeighborWorks Umpqua on 3 acres at 2843 NE Douglas Ave., just south of Diamond Lake Boulevard. Deer Creek will have 18 one-bedroom units, 41 two-bedroom units and nine three-bedroom units.
An analysis done last year showed an acute shortage of multi-unit housing, especially for low-income residents. The housing shortage is likely to worsen, with an additional 2,700 units needed to house the more than 5,500 people expected to move here in the next 20 years, the study determined.
The lack of affordable housing is a contributing factor to homelessness in the region, the study found. The housing crunch is exacerbated by the fact that a third of all city residents are considered very low income and can only afford to pay $650 a month in rent.
City of Roseburg spokesman Eric Johnson said the new apartment complexes are a testament to the success of the Diamond Lake Urban Renewal District.
"By offering tax incentives to these developers, we are able to stimulate both market rate and affordable housing development, which in turn stimulates our local economy," Johnson said. "We are excited to be partnering with such developers as Wishcamper, Timberview Construction, and NeighborWorks Umpqua, who are helping us offer more housing options to our citizens."